When you're decorating a room for your child from newborn to adulthood, you'll want furniture that looks great and furniture that will also last. Items handcrafted in the Amish way, out of quality wood, make a perfect choice for any home.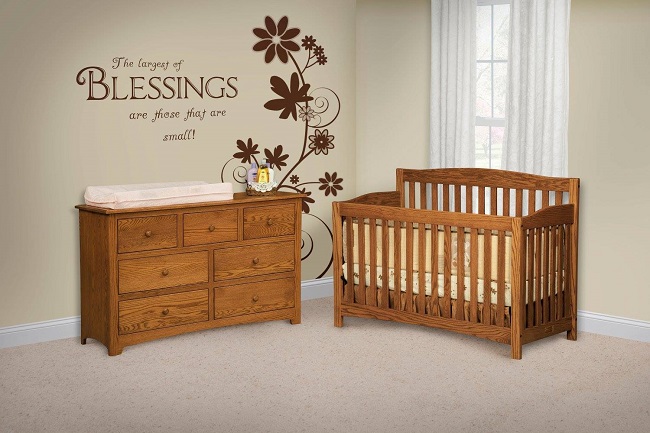 The focal point of a child's room will always be the bed. For newborns, if you want to start with a cradle, where you can gently rock them to sleep, choose a handcrafted design in red oak or brown maple wood for a gorgeous start to your nursery. Add a matching dresser for storage along with a removable changing box top for convenience.
When you're ready for a crib, choosing a three-stage bed system will allow you to make one purchase that will last for many years. This type of bed will work beautifully for a newborn, toddler, and a teenager because of the ability to transform the design.
This bedding system starts as a gorgeous crib for your newborn. When your child gets a bit older, you can transform this crib into a toddler bed that's perfect for a preschooler. Open on the side, this piece of furniture resembles a day bed that your toddler will love. When your child outgrows their toddler bed, you can again transform their bed into a double bed that will see them through to adulthood.
Choose a bedding system in a variety of styles, such as French country or a sleigh design, for example, made out of the best sap cherry wood, white oak, or red oak for a fabulous look. Finished in rich tobacco or burnt umber or even a gorgeous golden brown will add a warm and cozy feeling to your child's room.
For more information about quality, handcrafted Amish furniture, please contact us today. We have furniture available for various rooms in your home that you will cherish for a lifetime.