Whether displaying priceless family treasures, special occasion dinnerware or everyday items, a china hutch will make a statement and punch up a decorating game. Objects are grouped together in such a way as to draw the eye and bring importance to the theme – whether decorating for a rustic, modern or traditional feel.  There is something very pleasing when a shaker-style hutch is decorated using modern elements.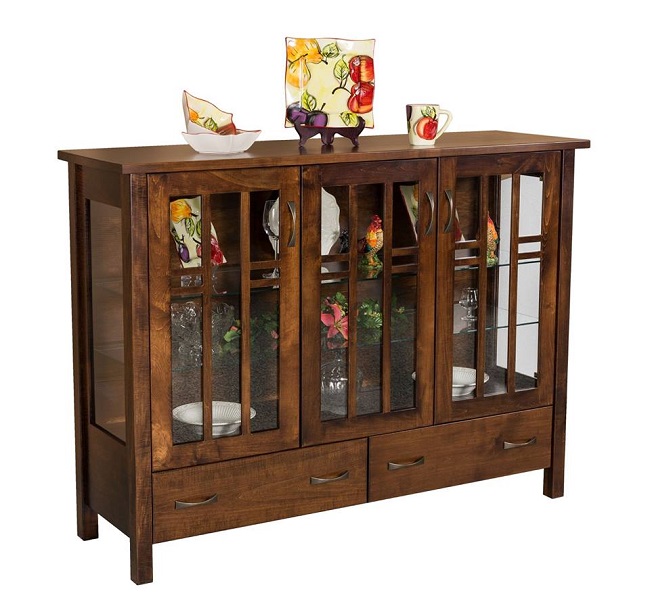 The juxtaposition of styles creates a unique and personalized look.  An infinite number of decorating styles can be incorporated in a china hutch which makes them a fun way to combine seasonal and holiday pieces.  Items can be switched out or rearranged depending on the time of year and can transform the style and feel of the room.  Adding a garland of faux autumn leaves or a string of lights to a hutch heralds the arrival of cooler weather.  Likewise, incorporating vases of flowers and pastel colors evokes spring.  Adding photographs and artwork enhance displays and can also emphasize a desired motif.  The beauty of these items is that they can easily be changed as desired.
Do not limit the scope of the china hutch to the dining room or to just dishes! This timeless and hardworking piece of furniture can easily be a feature of almost any area of the home to display and store possessions.  What about towels, perfumes, pretty soaps and linens for a bathroom or books, writing instruments and family pictures for the study?  The china hutch can serve as both a functional and decorative piece throughout the home. Picture a display of souvenirs from travels, alongside a map or globe, or a growing set of collectibles displayed near an entryway or a family room where they can easily be admired and enjoyed.  The only limit to the use of the china hutch is your imagination!