Your television stand will naturally become the focal point of your room. Of course this means that choosing the right one is paramount. When selecting an entertainment center, here are a few things you should keep in mind.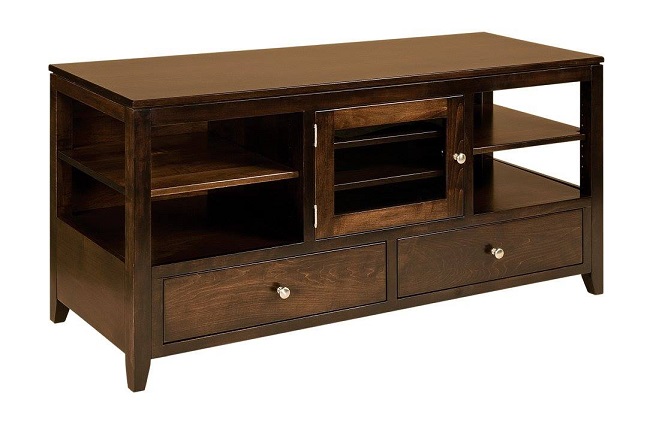 Size
Consider these factors when choosing the right size unit:
The dimensions of your television: Ideally, your set should fit completely on the stand with no part of it hanging over the edges.
Viewing height: Does the entertainment center allow you to view your TV comfortably without straining your head or neck?
Location: Where will you place the stand? Would you like it to cover an entire wall or only a certain section of it?
Storage
Entertainment centers have a secondary purpose, and that is to hold other forms of media such as DVD players, game consoles, and DVR equipment. As such, you'll want to ensure your piece has ample storage and is designed in such a way that you can neatly conceal other items. This includes cords, which can give your room a messy appearance when they are not hidden.
Aside from other media sources, think about other things you would like to store in your entertainment center. For example, you may want to house your CD or DVD collection or even a few books. Having these things nearby will make it easy to enjoy your favorite movies or music whenever you get the notion to.
Material and Design
Although it will probably become your room's focal point, an entertainment center should nonetheless complement the rest of your furnishings. A wooden TV stand will match nearly any decor, and can withstand a great deal of use. We offer pieces in varying wood grains along with metal and glass accents, making it easy to find the one that perfectly suits you.
When looking for an entertainment center, we offer numerous high-quality pieces at an affordable price. To see our available choices, please contact us.