There is Nothing Like a Good Writing Desk!
As a writer myself, I can really appreciate a good writing desk.  I can spend many hours just working on one project and I need a desk that is, not only functional, but also dependable.  I need a workstation that is comfortable and attractive.  Let's face it, your surroundings can affect your overall mood which can also have a monumental impact on your work.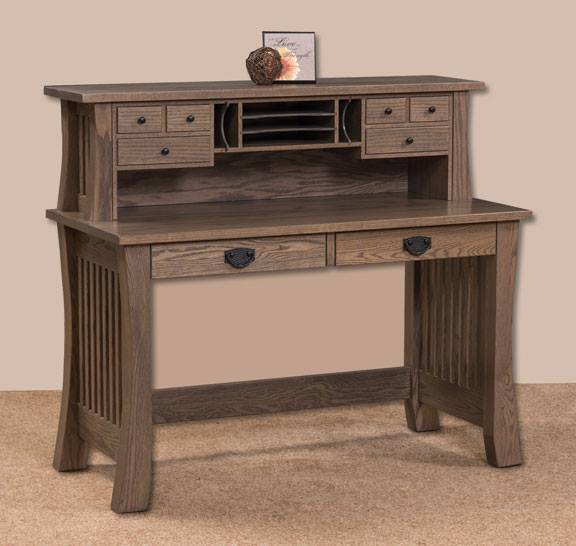 Over the years my writing desk has become my trusted companion and friend.  It has caught my tears during times of disappointment, felt the pounds of my fist during frustration, and held my wine glass in times of celebration!  And through it all, it has never let me down.
But what exactly makes a good writing desk?  The answer is simple: SOLID WOOD.
Solid wood will outlast inexpensive ready-to-assemble furniture. Although it may seem convenient and cheaper to buy those flat-pack appliances, they are usually made from cheap materials that will not hold up over the years. Chipped laminate, stuck drawers, and sagging wood is not something that I want in my office.   Besides, I think a piece of furniture that has served you faithfully throughout the years, should be an heirloom that can be passed down to future generations.
At Amish Furniture Showcase, you will get gorgeous hand-crafted furniture that will make a beautiful centerpiece to any home office or room.  Our writing desks are built by skillful Amish and Mennonite Artisans who take great pride in all their work.  Every piece of furniture is constructed of solid wood that will maintain its beauty for many decades to come. Just think, no more wondering where that plastic screw came from that you found on the floor!
We also offer a large selection in cribs, chairs, desks, bedroom furniture, and kitchen tables.  And of course, we are proud members of the Better Business Bureau with an outstanding rating.
So what are you waiting for?  Don't you want the writing desk of your dreams?  Well, it's only a click or phone call away!
Please contact us and visit our website.