Picking the Right Table: Key Features to Consider
You'll spend endless hours around your dining room table, so choosing the right one is of the utmost importance. When selecting a table, keep these things in mind in order to find the perfect piece.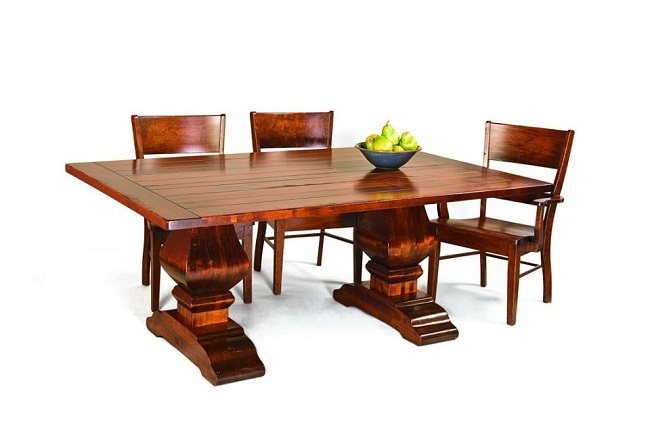 Size
Having a dining table big enough for your entire family plus a few occasional guests is a must. That's easier said than done if you have a limited amount of space to put it in. If you have a small dining room but need to seat several people, select one with insertable leaves instead.
Another option is to look for drop leaves that you can fold down when not in use. A drop-leaf table is an especially good choice when it also doubles as a desk or homework station.
Shape
The shape of your dining table should complement the other fixtures and furniture in the room. This means that a rectangular or square table is best alongside other items with crisp, clean lines. Choose a circular or oval piece if you have slightly rounded countertops or cabinet doors. You can also use a rectangular table with slightly rounded chairs if you are looking for a balance between the two.
Material and Craftsmanship
Dining tables experience a great deal of wear and tear. This is why you should pick a well-crafted piece made from solid wood rather than engineered wood or plywood. Oak, mahogany, and walnut are all durable, timeless pieces that are also very easy to maintain. In general, darker species are best for formal rooms, while lighter ones work well in more casual spaces.
Your dining room is where you'll make loads of wonderful memories. Accordingly, a lot of thought must go into choosing the right table. To see a nice selection of quality dining room tables that will last you a lifetime, please contact us.