Beautiful Secretary Desk for Your Home Office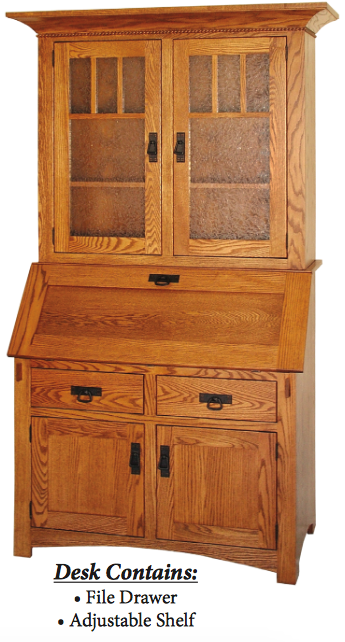 Do you find yourself in desperate need of a home office but lacking the resources to make it happen? Maybe you have been targeting that spare corner of the guest room for some time now, or have been planning to add on a small addition to your master suite? Whatever setup you have in mind, it is crucial for every home to have that reserved area in which business can be taken care of and documents can be stored in an organized and secure manner. No one wants their important papers scattered across the coffee table for safekeeping. And, although we all lead busy lives, it is never ideal to spread out across the floor to balance your accounts or finish up that last minute project for work.
Furnishing a home office is something that everyone needs to do in order to maintain organization and create a space to relax and actually enjoy tending to the details of your personal and professional business. Investing in a beautiful wooden secretary desk is the perfect idea for any home because you can choose a piece that best suits both your style and your needs. These sturdy yet charming pieces bring order to your chaos of paperwork, providing storage in addition to a desk space. You can pull up a chair when you need to work for long periods of time, and then you can fold up the desk space when you are finished.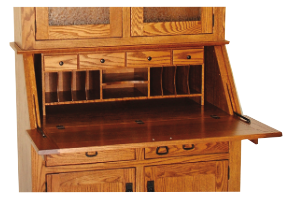 The versatility of a secretary is one of its primary selling points. It is a lovely and intricate addition of solid wood furniture that can stand alone as a piece that more so resembles a cabinet or hutch, or it can act as a glorified desk that remains opened up on a regular basis. At Amish Furniture Showcase, we are pleased to provide options for whatever specific home office needs our customer has in mind. If you want a desk that doubles as a filing cabinet with adjustable shelving, then our beautiful secretaries are the perfect route for you.
The lovely combination of a large hutch and desk, pictured here, is made by Miller's Woodshop and offers a hidden interior space with drawers and shelving to house your laptop, tablet and other important items. All of our exquisite furniture is built by Amish and Mennonite craftsmen who make it their life's work to create meaningful and long lasting products. These pieces are made with immaculate detail and completed with top industry finishes that will last a lifetime.
Come visit us today to see all of the beautiful home office products that we have to offer!