Your bedroom is your cozy haven that you retreat to for a quiet time to rest, relax, or sleep. You can accentuate this space by mixing and matching your Amish bedroom furniture for a custom, unique feel. It will not only brighten your space, but also create a cohesive look. These 3 tips will help you achieve this.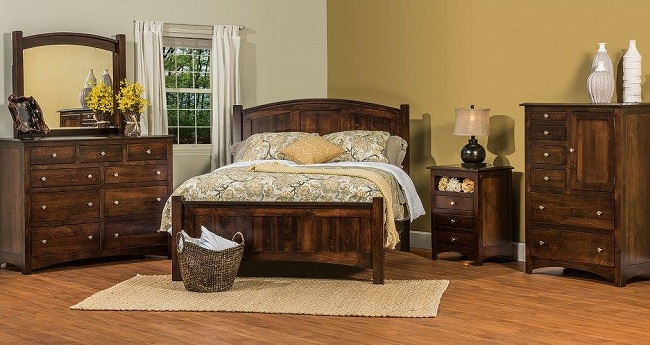 1. Consider the texture of your furniture
Let your creative juices flow by mixing furniture with different textures as this adds depth, warmth, and interest to your bedroom. Go for a wooden queen bed with lacquered nightstands; and if it's your child's space, arrange your painted kids' furniture around the bedroom with a toy cabinet that has mirrored doors and a chest of drawers with metallic sides. All these pieces have different textures that blend perfectly well.
2. Explore contrasting styles
You can mix and match your bedroom furniture sets by contrasting the styles of the pieces. How about pairing your oak bedroom furniture with rustic nightstands and dressers? Explore having your kids' bunk beds made of metal bed frames instead of being wooden all the way.
Better still, have your upholstered sofa bed display a brass nailhead trim similar to that of your less subtle pieces like the brass wardrobe handles or brass chandelier. If you're the laidback type, you may opt for the same-styled Amish modern furniture pieces that are of various colors or textures.
3. Be innovative with color
What mood do you want for your bedroom? Color coding comes in handy here. Coordinate your couch bed with the rest of the Amish bedroom furniture sets so that there's a contrast and balance in color. For instance, consider varying the color shades for your bedroom pieces (curtains, rugs, lighting) with, say, those of the modern bedroom sets (dresser, bed, and headboard). So the lighting, nightstand, rug, and even curtain can have various hues of your favorite color.  And if you're bold enough, color block your modern bedroom furniture with the rest of the pieces in your bedroom.
For more exciting tips on how to mix and match your bedroom furniture, contact us now. If you're planning to purchase furniture, visit our Amish Furniture Showcase offices today.