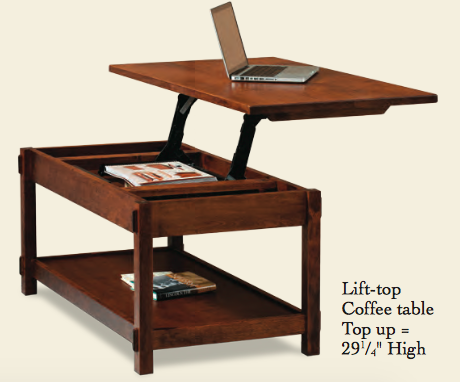 It's the coffee table that you never knew that you always needed! In a fast-paced society where we never have enough time in the day and always feel the need to multi-task in all that we do, we need furniture that works along with us. Just when you thought that coffee tables were only needed for collecting dust and housing random magazines or delicate decorations, we bring you a functional table that allows you to both relax and tend to your business at the same time.
Gone are the days when you have to spend hours seated in a hard desk chair in order to get your work done. With a lift-top coffee table, you can get grab your laptop and get comfortable on the couch as you prepare to settle in for catching up on work or getting yourself organized for the day. The lift feature on our beautiful hardwood coffee tables allows for functional storage in addition to a makeshift desk that is great for the whole family. Whether you cover it in devices necessary for everyone's respective work or simply create a drawing station for the kids to enjoy while watching television, one of these coffee tables will make the perfect addition to every home.
Pictured here is the Centennial edition of the lovely lift-top table from Forks Valley Woodworking. These durable yet intricately designed occasional tables are crafted from only the best North American hardwoods and come in a large variety of colors and types of wood. With all of the different styles, you are sure to find the piece that is just right for your home. Your family room or even your bedroom would be the perfect spot to place one of these multi-purposed tables. Come out today and see what beautiful, high quality furniture that we have to offer!