When you want your infant son or daughter to enjoy the very best, choose a top-quality, solid wood crib, changing table, and more baby furniture options for their room. Outfitting the nursery is one of the most exciting tasks of new parents-to-be. After all, you are choosing where your baby will sleep, play, and grow up. If you want heirloom-quality options that will stand the test of time, consider classic furniture built by Amish and Mennonite craftspeople using traditional skills passed down through the generations.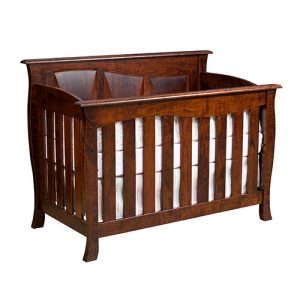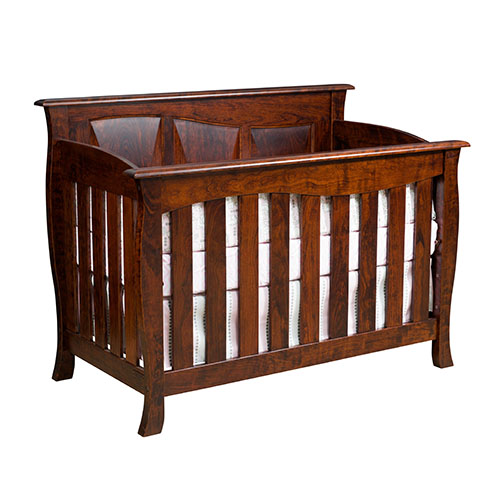 Baby and Toddler Furniture Options
From the first gentle swing in a rocking bassinet to the day when they graduate to a big kid's bed, your children deserve the very best.
Cribs and Toddler Beds
A variety of crib styles with different stains and finishes are available. Each is a convertible crib that becomes a three-sided toddler bed or small day bed and finally a head and foot board for a full-size bed. We offer simple conversion kits and rails. Choose bunk bed setups for multiple children.
Storage Pieces and Shelving
The various styles of bed match our collections of other bedroom furniture. Design your baby's room with a book shelf or bookcase, night stand, a changing table that converts to a dresser or drawer chest, and a tall hutch for storing favorite books and toys. While the baby's bassinet or crib might get the most use, you will appreciate the attractive and hard-wearing storage options available.
The Amish Furniture Difference
Each piece of furniture is sourced from authentic Amish and Mennonite woodworkers who use old-time techniques to transform wood into beautiful seats, storage, and more. They use only natural North American hardwood and top-quality finishes. Anyone who wants the type of furniture that can hold their baby safely and transform for ongoing use as the baby grows toward adulthood needs to take a closer look. We at Amish Furniture Showcase in Dallas, TX are proud to bring you heirloom-quality baby furniture that you can enjoy through the generations.