Nothing says back to school time quite like an image of a family gathered around the table working on various homework projects. Teachers are often ready to challenge their students after a long summer break with plenty of work to be done, and the kitchen and dining room quickly morphs back into the study hall where backpacks are dropped and papers are scattered about. When kids and parents are both going to be spending a lot of time reading and pouring over deadlines, they need a comfortable space and the perfect hardwood dining chair to dig in and begin the school year off right.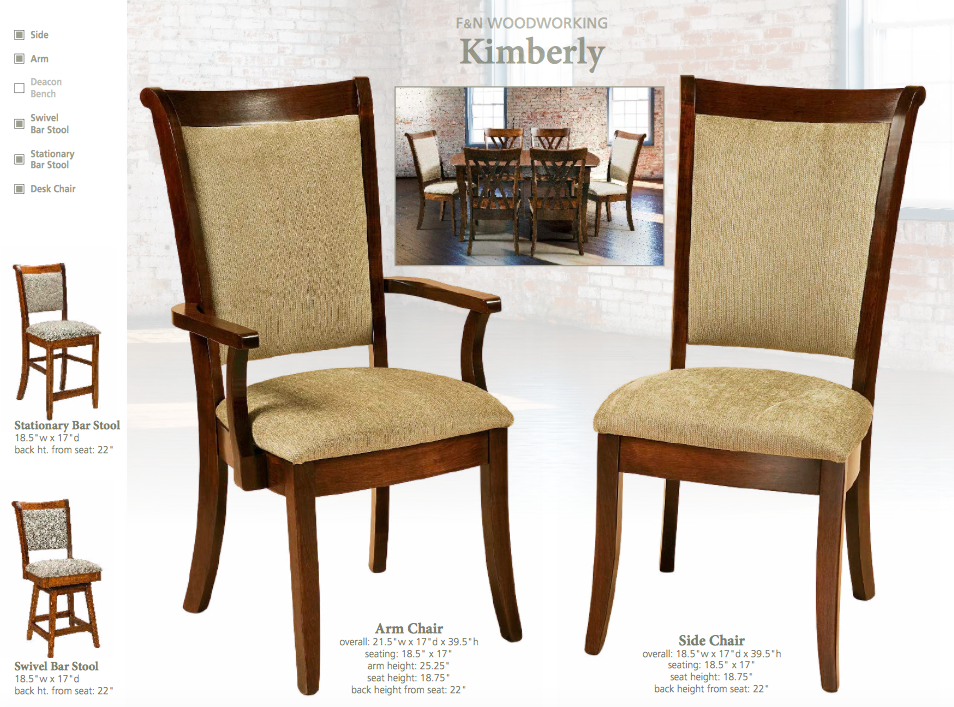 Whether you are considering adding a new breakfast table to your kitchen area, some new chairs for your ever popular bar top, or investing in a new dining room set, Amish Furniture Showcase is the perfect place to find solid hardwood furniture that meets your need for function while adding exquisite beauty to your home in the process. Our dining chairs featured here, from F & N Woodworking, are a picture of style, comfort, and versatility. You can find chairs with or without arm rests, for the family who needs to slide on and off the chair easily or the ones who plan to kick back and stay a while when relaxing at the table. We have matching bar stools that are either stationary or have the swivel feature, and our customers love the fact that they can adorn their kitchen and dining areas with different types of chairs without breaking the pattern and design of their space.
Your family will love sitting down and getting settled in for a long night of homework or a much needed game night break with our cushioned solid wood dining chairs. At Amish Furniture, we are proud to offer selections from Amish and Mennonite furniture craftsmen from all over the country who pour their time and talents into this well-built, long lasting furniture. Each piece is made complete with top of the line finishes, and many of our pieces and chairs are offered in multiple different types and shades of hardwood material. So, if you don't find the exact color of furniture that you are looking for when you visit our showroom, we can likely get it for you in the type of wood that you prefer!
Come out to Frisco and visit us today, and we know that you'll find the perfect dining chairs that your family will greatly use and enjoy throughout your busy school year!