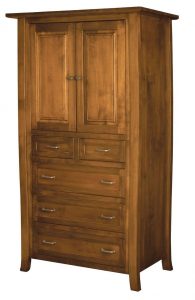 Have you been putting off that work in your bedroom? You know it has to be done but you are short on space, and there are clothes and clutter everywhere. You're sick of stuffing clothes in drawers that are already overflowing, and it's time for a workable solution.
The answer lies within a new wardrobe! By adding a wardrobe to your bedroom, you are giving yourself extra space for storage while also adding an ornate piece of furniture to your home. Our designs at Amish Furniture Showcase are created out of solid North American hardwoods, and each piece is built to last and finished with top industry finishes. This wardrobe will not be something that falls apart after a few years use but will become a family heirloom that is passed down to the next generation.
When you come out to visit our showroom in Frisco, you will find that we have a variety of options for you and your home. We have wardrobes in varying colors and styles, some that are large and intended to make a bold decorative statement and others that are more basic and intended for a smaller room. Come out and visit us today, and we know that you'll find the perfect piece for your bedroom!