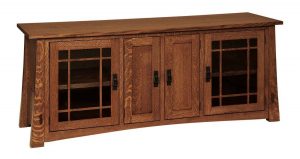 Are your gaming devices and television paraphernalia overtaking your whole room? Many of us find ourselves adding to our existing media equipment over the years, and we run out of room to conveniently house it all. We've got wires running all over the place and DVDs stacked here and there, and it's time to bring some order to this mess.
What if we were to offer you an option that would provide both function and beauty to your home? A solid wood entertainment center is the perfect addition to your living room or den because it houses necessary electronic equipment while also making a visual statement. Our furniture at Amish Furniture Showcase is intricately created from North American hardwoods and crafted with both durability and style in mind.
We have entertainment centers in various styles and colors, with hardware and aesthetic touches that are sure to appeal to the individual taste of each customer. Some folks are merely looking for a small piece to showcase their tv and a few odds and ends, while others need a huge piece of furniture to cover a large wall in their home and hold a lot of equipment. The good news is that we have options that cover both ends of the spectrum! Come out to visit us today in Frisco, and we will help find the perfect entertainment center for you!