A Lift-Top Coffee Table that Can Double as an Extra Work Space
For anyone who needs extra space to work and doesn't have room in their home for an office, a lift-top coffee table is a great solution. With a lift-top coffee table, you can raise the top to provide a workspace of the perfect height. You won't need to take up space on the dining room table, and you'll have a spot to store your laptop and a few other items. Several choices of design exist so that you can find just the right look for your home.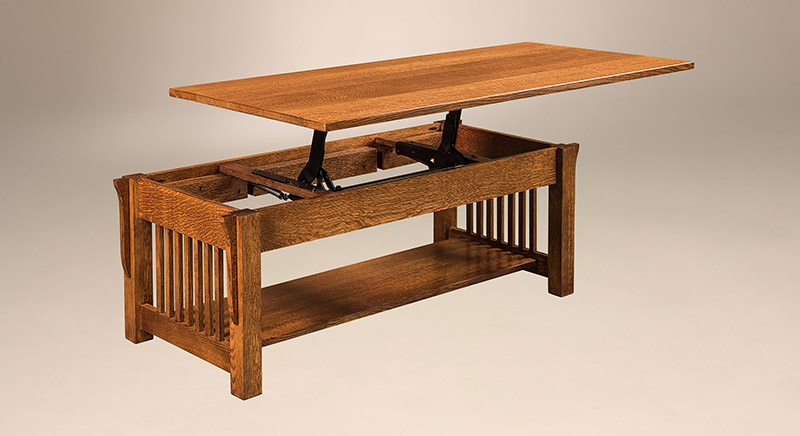 Contemporary Look
For homes with modern furnishings, an enclosed lift-top coffee table will look fabulous. Choose a design with gently curved legs, ebony inlays, and an arched skirt to complement your decor. This style has a warm appearance that everyone will love. Its handmade construction makes it durable and more beautiful than any standard coffee table. Such a lift-top table, made out of gorgeous harvested hardwood, is a perfect addition for almost any home.
Vintage Chic Look
For homes with a more transitional style, a chic yet vintage style for a lift-top coffee table makes a great choice. Choose a design with curved legs and an open area on the bottom for an elegant look. The lower shelf will provide extra space for storage in addition to the recessed storage area under the lift-top. You can place wicker baskets on the bottom shelf to hide items to keep the decor looking neat and clean.
Traditional Look
For homes with a more classic appearance, a lift-top coffee table in a sleigh design with an open shelf on the bottom will always look stylish. The graceful curves on the front of the table combined with legs that are straight on one side and wavy on the other will coordinate well with most other traditional furniture. Choose wood in oak, maple, cherry, or even hickory to match the rest of your decor.
For more information about lift-top coffee tables, please contact us today. Our beautiful, handmade furniture is made to last and will enhance the look of any room. Our team is happy to address your questions and will help you pick out the perfect piece for your home.