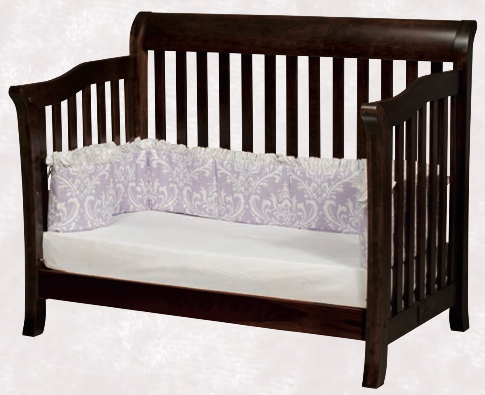 No one wants to buy a piece of furniture that becomes useless in just a few years, right? We want our money to be invested wisely. We want to get our money's worth out of our purchases and find products that are built to last.
If you find yourself preparing for a new baby and filling your nursery with all of the necessary items, then you want only the best for your little one. You want quality items that will stick with your child for a long time. That is exactly what you will find when you shop at Amish Furniture Showcase. We carry beautiful and durable wooden nursery furniture that is made to be converted as your child grows.
Our beautiful selection of cribs and nursery furniture are built and designed by Amish and Mennonite craftsmen who use only North American hardwoods for their ornate pieces. The cribs are all built to convert to toddler beds and then to a double bed, changing with your child. The investment you make in nursery furniture will be something that your child takes with them to college and even into their own home one day!
This particular piece is made of Sap Cherry wood with a beautiful Rich Tobacco finish. This style is a part of the Berkley Collection, which has a number of lovely solid wood cribs and dressers of all shapes and sizes. We know that our collection of wooden furniture has a little something for everyone, and we would love for you to come visit us in Frisco today to find that special something for your home!