Designing a Bedroom that Will Grow with Your Child
When it comes to babies and kids, change is the only constant. Sometimes it seems that they outgrow their clothes and toys faster than you can say "playdough"! Despite this fact, with a little forethought, it's possible to design a beautiful bedroom for your child that will grow right along with them.  Amish furniture from Amish Furniture Showcase is constructed with care and built to last, so making thoughtful selections will ensure that your child will enjoy their quality bedroom furniture for many years to come. Here are some suggestions for creating a room that will grow with your child: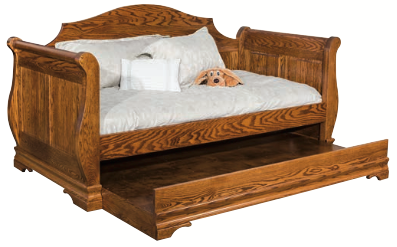 Consider a Day Bed
Rather than waiting for your child to outgrow their crib or toddler bed before purchasing a "big kid" bed, why not design a day bed into the room right from the beginning in addition to the crib?  A day bed will provide a place for parents and caregivers to doze on those nights when the child needs extra comfort in the middle of the night, and in a pinch, it can serve as an additional place for a guest to sleep. Once your little one outgrows the crib, he or she can graduate to the day bed!  Day beds with a pull-out trundle will come in handy down the line when friends come to sleep over, and pop up trundles can even transform a day bed into a king-size bed for guests.
Select Flexible Furniture Pieces
A changing table is a great convenience and is often considered a must-have for baby furniture, but another option is to select a  low, 3-drawer chest (often called a bachelor's chest) and use a soft changing pad topper so that it can serve as a changing table during the baby and toddler stages. This same piece of furniture without the topper can later be used as a dresser well into the teenage years, and it has the flexibility to be placed beside the bed in place of a night stand.
Go Big with the Bookcase
Storage is essential in any child's room. Selecting a taller book shelf–with proper wall anchoring for safety during the toddler phase–is a smart choice that will maximize vertical space and will grow with your child as the board books and stuffed animals later yield to high school trophies and framed photos of classmates.
Quality Amish furniture from  Amish Furniture Showcase is an investment that will grow with your child for many years to come. Contact us today to explore our many furniture options.