It can be hard to know where to start if you're in the market for a new office desk. There are so many different ones on the market, but how do you know which will be right for you? We've put together a list of essential things to consider when buying an office desk. By thinking about these things before making your purchase, you'll be able to make sure that your new desk is perfect for all of your needs!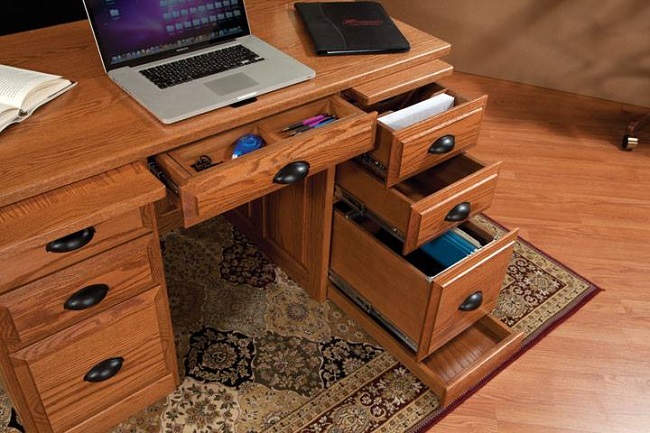 Available space
Before shopping for your new desk, you must consider just how much space you have available in your office. A large desk may be unnecessary if you work from home and do not have any other employees besides yourself. However, if several people in the office will be using this particular piece of furniture, then it might be worth exploring more extensive options that can accommodate multiple people.
The next thing to consider is what exactly will happen with this desk. Do you have a lot of paperwork that needs filing or organizing? Are there computers that need to sit on top of it? Will there be a printer nearby as well? All these things should factor into whether or not an L-shaped design might work better than something else.
Adjustability
While it's nice to have a desk that perfectly fits your needs and preferences, it's even better if you can adjust it. Adjustability allows you to change your desk for the tasks you'll be doing at work. If you're using a keyboard, for example, and then switch to using a tablet or drawing on paper, an adjustable standing desk would allow you to make sure that both devices are at the right height without having to move them around.
Storage
Storage drawers. These are a great way to organize pens, pencils, and other personal items. If you have many, consider using file cabinets or small storage boxes to keep them contained.
File drawers. A good number of file drawers can help keep your desk organized by allowing you to store all types of paperwork in one place rather than spread out over various places on your desk or in other parts of the office.
Cup holders are helpful if you like coffee but don't want it getting cold too fast—and they're also great for holding other beverages! It's also helpful if they're insulated so that nothing spills when the cup gets knocked over by accident.
Quality
The quality of your new desk is an important consideration. It's a long-term investment you'll be making, so you want to ensure you get something that will last. A good table will last longer than something of lesser quality, so take advantage of this aspect of your purchase.
Surface area
Another critical consideration is the size of your desk. Will it fit in your office? How many monitors will you need to accommodate? Do you have room for a mouse pad, or should you choose an ergonomic option with a minimal surface area?
It's also important to consider the size of your monitor. A large monitor with ample desktop space may not work for you if all other elements in the equation are small. The same holds for laptops, tablets, and phones—you'll want to get something that fits comfortably on your desk, so it doesn't take up too much room.
Additional Features
There are other features to think about as well. If you want to charge your phone or laptop on the desk, look for a charging surface—either built-in or as an accessory—that can accommodate wireless devices. Some desks have built-in USB ports and power outlets, making them ideal for desktop computers and laptops.
Bottom Line
We hope this guide has helped you consider some of the essential factors before purchasing your new office desk. Amish Furniture Showcase offers a wide variety of high-quality, handmade desks that will meet your needs and exceed your expectations. Contact us today to learn more about our products or to place an order for your new office desk.