The Best Entertainment Center for Your Game Day Parties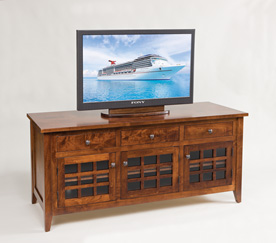 With championship games around the corner, it's the time of year when sports fans of all ages park themselves in front of the television.  For hours or even days at a time, these fans will be watching all of their favorite teams, yelling at the screen, and enjoying the food and fellowship with friends. However, as much as you've enjoyed going to the homes of other friends and family, maybe you've been wanting to host a party of your own this year!
Putting together a menu will be no problem. Getting your friends to show up will be easy, especially once that menu has been revealed.  The hard part, however, will be creating a space for everyone to gather around and watch the big game. You recently upgraded to a bigger tv, but the old table you've been using as a stand is not sturdy enough to hold it.
Now would be the perfect time to invest in a quality entertainment center to display your television and to house your movies, books, photos and other odds and ends. Amish Furniture Showcase provides solid wood pieces that will hold their finish for a lifetime and make a stylish addition to your home. There are multiple different skillfully crafted entertainment centers to choose from, varying in size, style and color.
Come out to our Amish Furniture Showcase today and choose the right piece of furniture for your home and your next big game day party!