Matching Wooden Glider and Ottoman for Your Family Room
The family room in your home should be the place where everyone can come together and relax. Busy schedules often have family members pulled in completely different directions, and we all need that space where we can fully unplug and reconnect.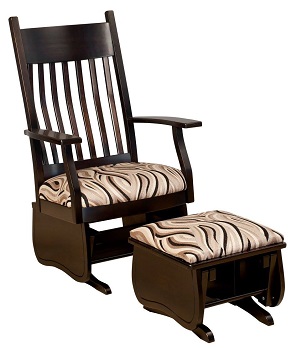 Each home is much the same in that every person has their "spot". This is the couch or chair where someone always sits, the spot they have claimed as their own. The problem is that many families outnumber the comfortable seating spots in their favorite room, leaving a constant fight going on as to whose turn it is to sit where.
By adding a matching wooden glider and ottoman to your favorite room, you create a solution to such a problem. Let dad have his favorite recliner while you stretch out and relax in a new, cushioned glider. A solid wood glider paired with a matching ottoman is both a beautiful and comfortable seating option for your family room or any other room in your house.
The gliders and ottomans we have at Amish Furniture Showcase are built out of top quality North American hardwoods. Our products are uniquely created by Amish and Mennonite craftsmen who use careful detail and top of the line finishes. The furniture that we produce will not merely help you get by for a few years until you can find something better but will last you a lifetime.
Come visit us today and check out the vast selection of gliders and rockers that we have to offer. We know that you'll find the right color and style for your home!