A fabulous way to add a distinctive look to your dining room and also increase your seating is to place one or more benches around your table. Various styles exist, so you're sure to find the bench seating that will coordinate well with your interior.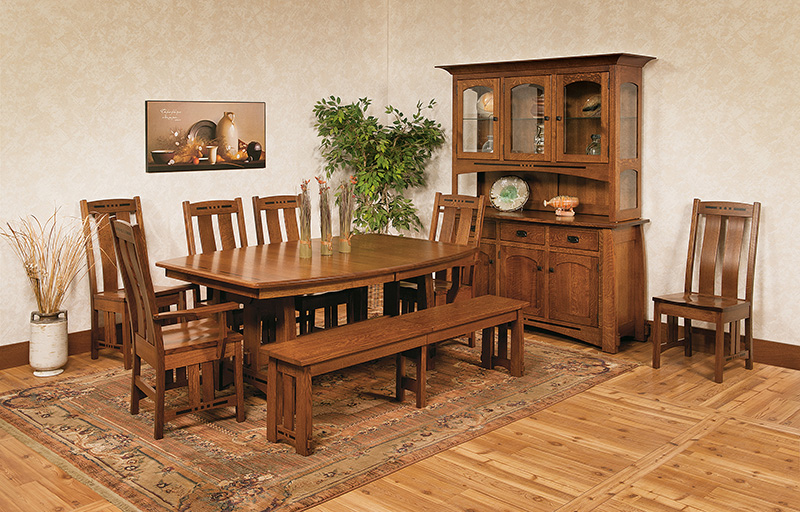 Extendable Bench Seating
If you entertain a lot or often have numerous guests, extendable bench seating will allow you to adjust the length of the bench to accommodate more people. One stunning design choice is a hardwood bench with up to four 12″ extensions. Opt for seating with a one-inch thick top and a mission edge for a great look. To add a sophisticated appearance to your dining room, choose a bench with four beautifully carved, rounded legs. For a more dramatic look, another fabulous design is a bench with a planked top and up to three 16″ extensions. Match the wood type and stain with your current table for a coordinated appearance. Select a sturdy, traditional design with large curved bases on each end and one in the middle to complete this gorgeous look.
Non-extendable Bench Seating
For a more seamless look, select a non-extendable bench seat with a solid top. This type of bench will still provide additional seating, even though it's not adjustable. The smooth top of the design will create a gorgeous appearance around your dining room table. Choose a bench with a thick seat and a mission edge. A style with lovely curved bases decorating each end, along with an extended support in the middle connecting the two, will look stunning in any dining area. Or you could opt for a trestle bench with a chic slatted base on each end and a connecting beam on the bottom. Either design will look beautiful with contemporary or traditional decor. Make your table the focal point in the room by placing a gorgeous bench on both sides of the table, with cushioned chairs on each end.
For more information about bench seating, please contact us today. All of our handcrafted furniture, made from quality materials, will enhance your home and last for many years to come.