A great way to add beauty, style, and function to rooms is to include an entertainment center. A well-made entertainment center will give you extra storage, a gorgeous place to put your television, and can update the look of a room. Three specific areas of a home that can be vastly improved by such a piece of furniture are the family room, master bedroom, and game room.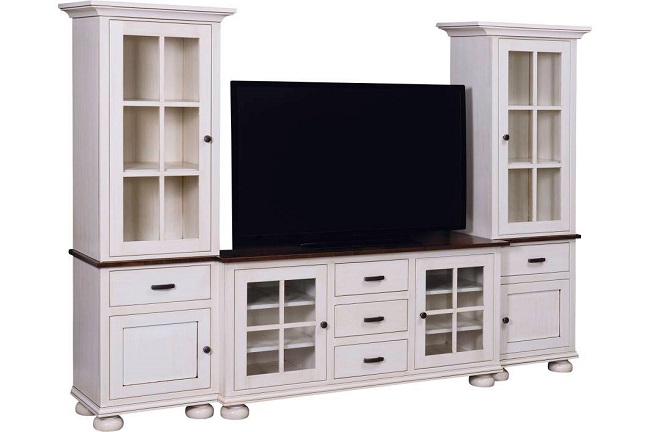 Family Room
You can add a chic style to your home by placing a large entertainment center in your family room. For a sophisticated look, choose a unit designed with arches, corbels, and tapered legs. Opt for a design where you can place the television in the center with a shelf above for storage and one below for your cable box or other needed electronics. Select an entertainment center with three closed cabinets on the bottom for even more storage space and built-in bookcases on both sides with glass fronts for a grand look.
Master Bedroom
A sleigh-style entertainment center is perfect for a bedroom, especially if you also have a sleigh-style bed. The rolling shapes and graceful curves on the front display elegance and class. Place the television in the middle of the entertainment center and use the open shelf above for treasured keepsakes. Two narrow drawers under the television area can be used to keep remotes or other small items. The three closed cabinets below with a beautiful glass front on the center cabinet will hold your cable box and other equipment.
Game Room
A mission-styled entertainment center with a slat side design will improve the look of any game room. Choose a durable unit with a shelf above the television to place game cartridges or other items. With two closed cabinets below, you'll have room for the equipment you need, such as a game console, DVD player, or cable box. The cabinet fronts designed with glass and wood will add a trendy look to your home that the whole family will admire.
For more information on gorgeous, handcrafted Amish furniture, please contact us today. We have fabulous pieces of furniture for every room in your house.