Creating a Comfortable and Functional Home Office
Trying to get work done in a home office that's uncomfortable, cluttered, and contains a mishmash of furniture can be stressful. To increase your efficiency and enjoyment of working at home, you need to create a comfortable and functional space. An excellent way to do this is with quality Amish furniture. Creating a Comfortable and Functional Home Office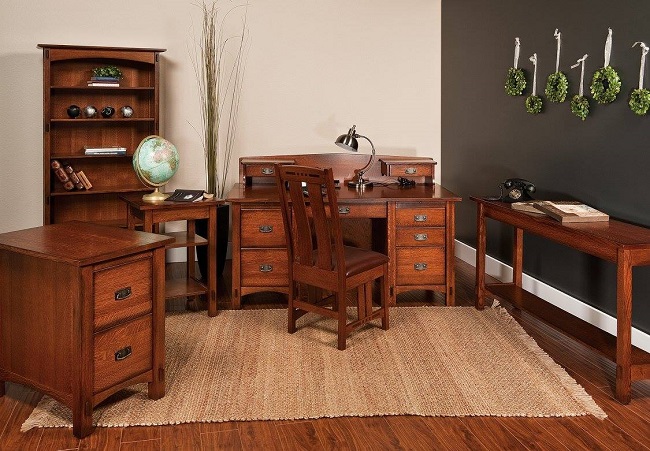 Computer Desk
You should start with the main piece of furniture in any office which is the desk. To optimize your space and give you more surface area to work on, you can choose a gorgeous, classic corner design made out of oak, cherry, walnut, or brown maple. Opt for a desk with multiple drawers for storage. Get a corner unit that also comes with a tray to keep your keyboard handy, safe, and tucked away when not in use.
File Cabinets
Storage space is always an issue for all the files that accumulate over the years. Instead of using ugly, metal filing cabinets, choose beautiful wooden filing cabinets to match your desk. You can pick a design with two, three, or four drawers. Try placing a couple of the four-drawer cabinets on one side of your desk. If you have a sofa in your office, you can also set a two-drawer filing cabinet on each end and put a lamp on top for a great look.
Tall Bookcases
For additional storage, place one or more tall bookcases in your office. Here you can store books, magazines, software packages, extra printer paper, and other items. For a gorgeous look, choose a bookcase with double glass doors in the front and two drawers on the bottom to hold things you don't want to display. A tall, well-made piece of furniture will look impressive and will add the appearance of height to your space.
For more information about office furniture for your home, please contact us today. Amish furniture is constructed from quality hardwood and is finished by hand to produce gorgeous, sturdy, and long-lasting pieces that you'll love. Cheers to you creating a comfortable and functional home office that's perfect for you.