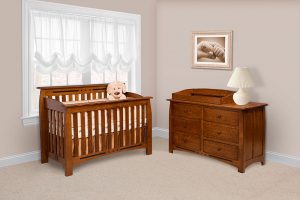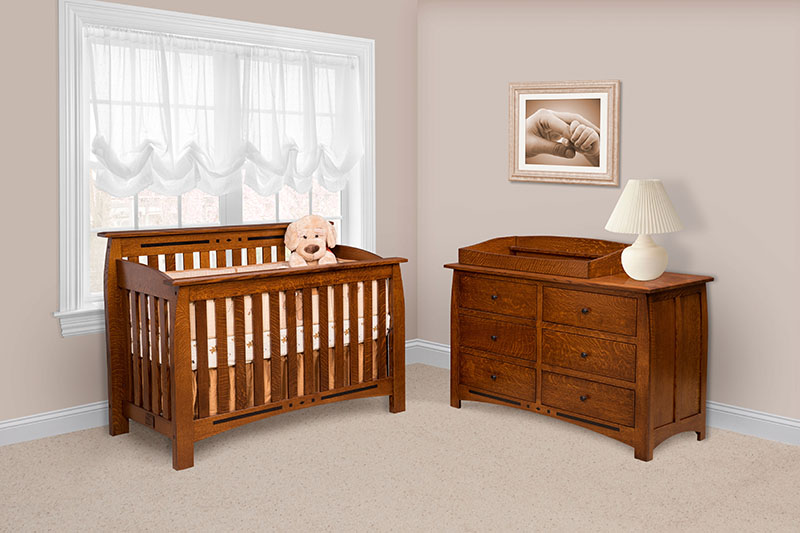 It's easy to get carried away with trendy, modern styles when preparing a room for your new baby.  Currently a popular trend is chevron.  However, when new parents choose a classic design for the nursery, the child can use the furniture and décor for years to come.  Then parents don't have to change the child's room when a new thing becomes fashionable.
Visit Amish Furniture Showcase in Frisco, TX and choose some classic pieces that will last for years to come.
Start with a beautiful, timeless crib.  We have cribs, bassinettes, and toddler beds.  It is a great idea to invest in a solid, high quality piece of furniture.  Some parents want to buy a bed on consignment or from yard sales, but that is not a good idea because safety standards for cribs have recently changed.  New rules prohibit drop down side rails. When it comes to your child's safety, this is not the time to cut corners!
Next, choose a rocker for your nursery.  We have simple rocking chairs, gliders, and matching ottomans to choose from.  We have several comfortable options for those late nights that will match any nursery theme.
Next, you need a place to store your child's things.  Babies have a lot of stuff!  We have several storage options, including small nightstands, tall dressers, and chests.  Some parents like to buy changing tables, but babies outgrow them quickly, so a more practical and economical option is to buy a dresser that can easily transition from a nursery to a child's bedroom.
Finally, choose some simple bedding, curtains, and artwork.  You can find some affordable options at your local department store.   Your home and the nursery will be perfect for your new baby! Contact Amish Furniture Showcase to learn more!