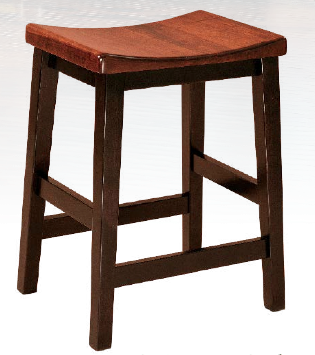 So, you've recently remodeled your kitchen and are looking for new items to fill it. Making changes to your home always brings about excitement, and, for the majority of the time, your kitchen serves as the central hub of what is going on within your household. Whether you are spending hours working on a big meal or spreading your portfolio contents out across the bar, the kitchen is where you spend a lot of your time.
Maybe your husband joins you by bringing his laptop over, or your daughter settles in with her math homework while you put supper together. Working in the kitchen is best enjoyed while in the company of friends and family. But where can they sit and get comfortable while you do your cooking thing? You want to make sure that your new kitchen is fully stocked with all of the elements of function and style.
At Amish Furniture Showcase, we know what it takes to make your house a home. Our wide selection of wooden bar stools offers various colors and designs to decorate your kitchen's bar or island with both function and style. Our furniture is built to last with top industry finishes, and our designs carry over from dining chairs to bar stools that either remain stationary or swivel.
By adding a set of wooden bar stools to your new kitchen, you are offering your family members or friends the opportunity to enjoy one of the best seats in the house. The kitchen will forever be where some of the best memories and best conversations take place, and we would love to have a part in making those conversations get started Come out and visit our store today, and you'll go home with a wise investment!