Remote work and the virtual classroom are the new normal. Your home may need to become the "corner office," the "cubicle" or the "classroom." With the home office quickly becoming an essential link to your organization's distribution and your children's education, consider some important furnishings you may need to remain relevant, productive, and organized in your home. Our furniture is meticulously crafted by Amish craftsmen and always made of hardwood sourced exclusively from North America.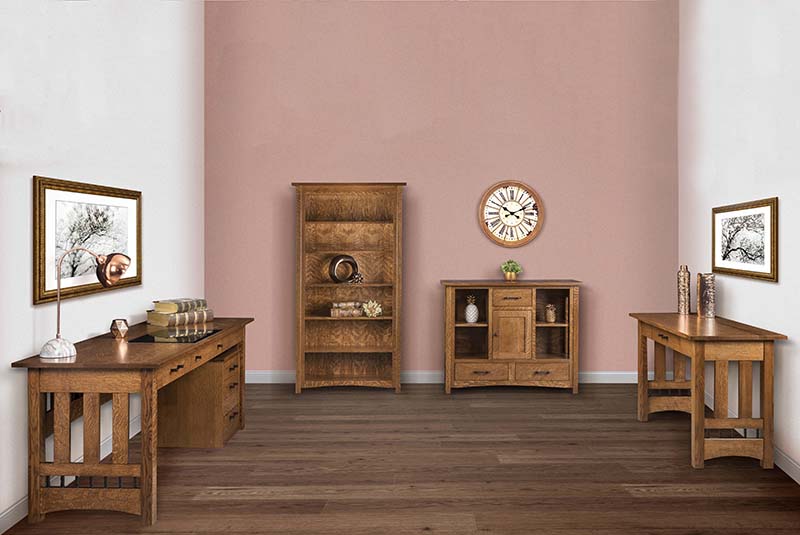 Secretary Desks
Maybe you need a Secretary Desk to stay organized in that quiet corner of the house that has always been a catch-all for keys and mail. Reclaim your space by adding this charming workstation to your special room. Secretary desks offer subtle and attractive desk solutions for small or challenging spaces. They are highly adaptable and can create order from chaos when you close the desk to conceal the clutter.
Office Desks
Are you the administrator or thoughtful academic that requires a broad area to read, write or compute? We can configure office desks to accommodate a variety of functions and room designs. Keep it modest with simple drawers or expand it into an L-shape and maximize your desktop real estate. Go ahead, add a second monitor, roll out those blueprints or review those expense reports. You're the boss!
Computer Tables
Does your board room double as the virtual classroom? A computer table can be the perfect multi-use work surface to offer the versatility your family needs to sit in on the virtual classroom or attend that staff meeting with your teams in Houston and New York.
Chairs
Just add a comfortable desk chair to complete your personalized experience. You'll accent your new reading nook, mini-office or conference room with the comfort you deserve. Now you can "dress for success," from the waist up. Just remember, you'll still need to get out of those pajama bottoms when you go out to pick up the groceries.
Bookcases
Add a Hutch or Bookcase as the ideal complement to your home office upgrade. Bookcases are a necessary furnishing for organizing your books or displaying your meaningful photos and memorabilia. They come in many sizes and shapes and offer harmonizing solutions for maintaining order and easy access to office supplies, literature, essential reference material.
Let Amish Furniture Showcase help furnish your home and office with precision, style, and durability. Contact us and we'll show you how the beauty and elegance of Amish furniture can create intentional and productive spaces for all of your family's endeavors.