When you first start a company, your office furniture will tend to be limited. You have a lot of other things to focus on, and you can make a folding table work well enough for a desk at the beginning.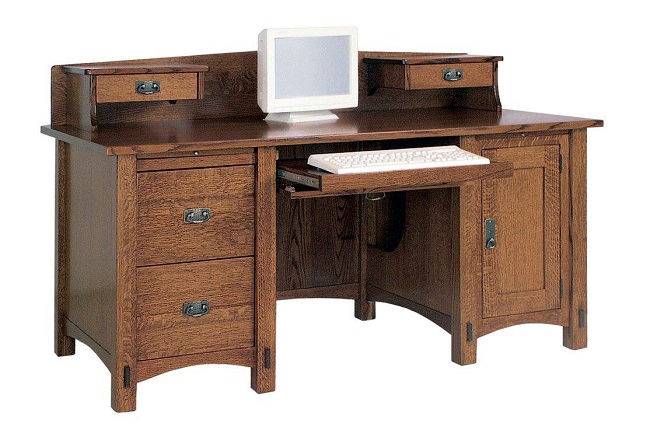 As your business grows, you'll start thinking of how everything appears from the outside. At that point, you don't want to make a cheap desk work — you want furniture that will help you present your business professionally.
Once you get to the point you can refurbish your space with more permanent furnishings, what kind of desks should you have in your office? Several possibilities are open to you:
Simple writing desks. These desks will be the closest to your familiar folding table: just a surface to write on and some room below where your feet can rest as you work.
Computer desks. It may seem not much different from a writing desk, but factors like extra surface space or a keyboard tray can make a big difference when setting up a computer desk.
Storage desks. A desk with something else attached for storage, such as a hutch, drawers, or cupboards, can be a practical solution in an office with limited space — and it'll bring a bit more of that polished look into your room.
Executive desks. If you have the budget and space, an executive desk will add a lot of character and professionalism to your office — as well as having space for all the books, devices, records, and other things you may need to keep on hand.
While the investment you make in furniture can be a large sum to begin with, the difference it makes in your office will be worth it. If you choose your pieces well, you'll be able to keep up your professional appearance for years to come, and your customers will notice and appreciate the difference.
Ready to take your desks and other office furniture from folding tables to sleek and professional? Contact us to start your furniture upgrades.