From Breakfast Nooks to Formal Dinners: Versatile Dining Room Designs
The dining room, a place of gathering, feasting, and making memories, is one of the most versatile spaces in a home. It's where you enjoy a quiet breakfast nook-style start to the day, as well as the grandeur of formal dinners. At Amish Furniture Showcase, we craft furniture that adapts to both ends of this spectrum with ease and elegance. Let's explore how you can create a dining room that caters to every occasion.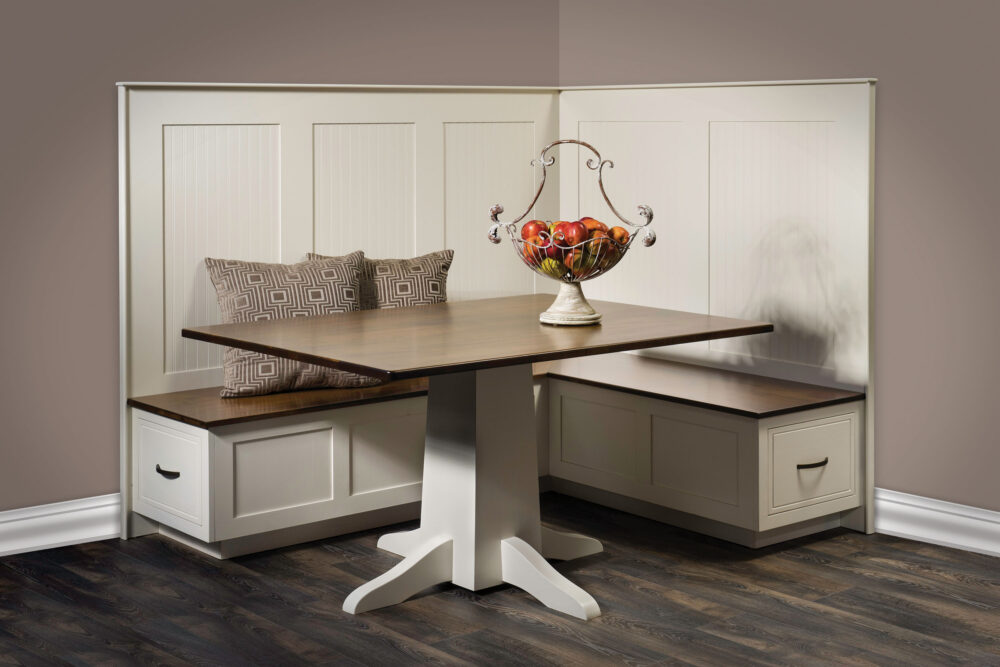 ---
Creating a Cozy Breakfast Nook
Welcoming the Day: A breakfast nook offers a cozy spot for casual dining. It's less about grandeur and more about comfort and ease.
Furniture Selection: Opt for our handcrafted corner benches and round tables that fit snugly into a kitchen corner, providing a warm and intimate dining experience. Add plush cushions for a touch of morning comfort.
Lighting and Decor: Soft lighting, perhaps from a window-side setup, can create an inviting ambiance. Complement this with light-colored decor and simple table settings to keep the space feeling open and airy.
---
Transitioning to a Multi-Functional Space
Adaptability is Key: A versatile dining room should transition smoothly from a casual nook to a more formal space. This requires thoughtful furniture choices.
Expandable Tables: Consider an Amish-crafted table with leaves that can be added or removed as needed. This allows you to accommodate additional guests or scale back for a more intimate setting.
Adjustable Lighting: Install a dimmer switch for your main light fixture to change the mood from the bright cheerfulness of morning to a subdued, elegant evening glow.
---
Setting the Stage for Formal Dinners
Elevating the Experience: Formal dinners call for a touch of sophistication and attention to detail in your dining room design.
Statement Furniture: Choose a large, solid wood table as the room's focal point. Amish Furniture Showcase offers beautifully crafted tables that exude durability and style, perfect for those formal occasions.
Accessorizing: Elegant chair designs, fine china cabinets, and sideboards not only add functionality but also enhance the room's formal atmosphere.
Layered Table Settings: Use fine linens, charger plates, and crystal glassware to set a luxurious table. Proper place settings are essential in elevating the dining experience.
---
Whether you're enjoying a quick breakfast or hosting a gala dinner, your dining room should cater to your lifestyle needs while reflecting your personal style. Amish Furniture Showcase specializes in creating high-quality, versatile dining room furniture that stands the test of time and adapts to every occasion. Visit us to find pieces that will transform your dining experiences from everyday to extraordinary.
[Visit Amish Furniture Showcase for furniture that brings versatility and timeless elegance to your dining room.]