The Ultimate Coffee Table Guide: Styles, Sizes, and Functions
The coffee table, often the centerpiece of your living room, serves both aesthetic and functional purposes. But with an array of styles, sizes, and functions available, making the right choice can feel daunting. Dive into our ultimate guide to make an informed choice for your space.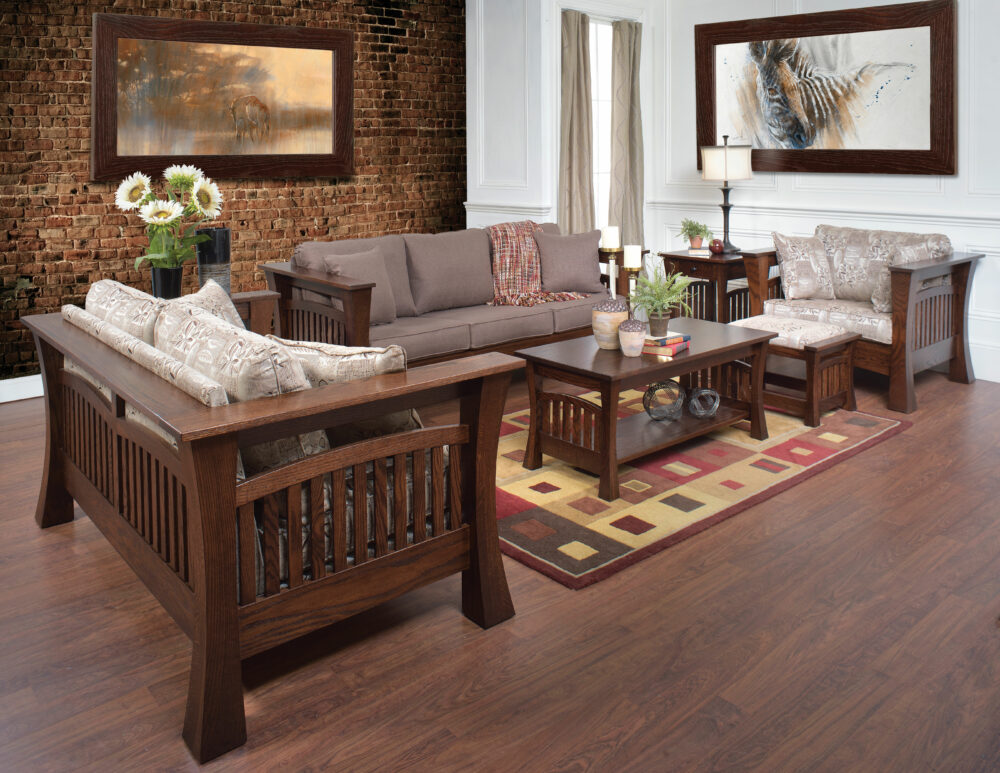 Historical Charm: The Coffee Table's Journey
From its inception in Victorian England as a tea table, the coffee table has evolved over the centuries. Today, it's not just a functional piece but also an integral part of our home's design narrative.
Styles to Suit Every Taste
1. Traditional: Typically made of wood with classic designs, these tables evoke timelessness. At Amish Furniture Showcase, our craftsmen emphasize detailed carvings and ornate legs to accentuate its elegance.
2. Modern: Characterized by clean lines, sleek design, and often utilizing materials like glass or metal in conjunction with wood.
3. Rustic: These tables showcase the wood's natural imperfections, adding a warm and earthy feel to your room.
4. Industrial: Combining wood with metal elements, industrial coffee tables offer a rugged, urban aesthetic.
5. Coastal: Light-toned woods and a breezy design reminiscent of a day at the beach.
Size Does Matter: Choosing the Right Fit
1. Proportion: Your coffee table should be approximately two-thirds the length of your sofa.
2. Height: Ideally, your table should be the same height or 1-2 inches lower than your sofa's seat height.
3. Clearance: Ensure there's at least 14-18 inches of space between your coffee table and seating for easy movement.
Functionality Beyond Aesthetics
1. Storage Solutions: Many tables come with shelves, drawers, or compartments. A perfect solution for those looking to declutter.
2. Lift-tops: These hybrid tables can be elevated, providing a comfortable height to work or dine.
3. Nesting Tables: These are sets of smaller tables that can be stacked together or used separately, offering versatility in use and arrangement.
Material Magic: Durability Meets Design
While wood remains a popular choice due to its durability and timeless charm, many modern designs incorporate glass, metal, or marble. It's essential to choose a material that complements your living room's decor and aligns with your maintenance preferences.
Caring for Your Coffee Table
Wood: Use coasters to avoid moisture rings and wipe spills immediately. Dust regularly and consider an occasional polish to maintain its shine.
Glass: Regularly wipe with a glass cleaner to keep it spotless and gleaming.
Choosing the perfect coffee table goes beyond just aesthetics. It's about finding a harmonious blend of style, size, function, and material that complements your living space. With the craftsmanship and variety at Amish Furniture Showcase, you're not just buying a piece of furniture; you're investing in a story, a tradition, and an art form.
Need more advice or eager to explore designs? Dive into our diverse range, where quality meets craftsmanship. Contact us today!