Whether you only use your dining room for special occasions or daily for family meals, you'll want a table that's beautiful as well as functional. With a stylish table, you can create a focal point in your dining room that everyone will admire.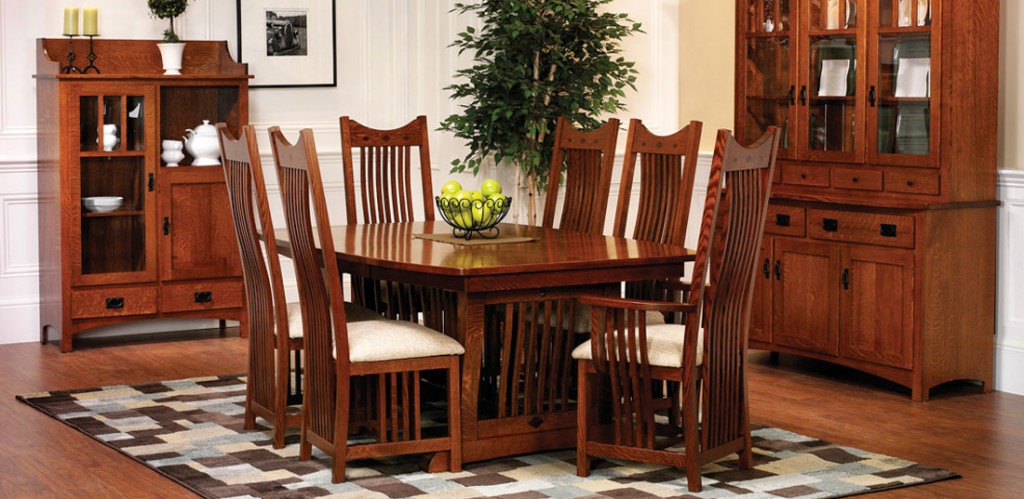 Sophistication
For a sophisticated look in your dining room, opt for a large rectangular table with a planked top and mission edges in brown maple with a nutmeg stain. Choose a table with a distinctive base, such as thick, arched supports on each end with a center beam that joins both supports, instead of traditional legs. You can pair this table with a matching bench seat on one or both sides with cushioned chairs elsewhere.
Classy
If you want a look that's classic and timeless in your dining room, opt for an oblong-shaped table with bevel edges in oak, cherry, or brown maple. Choose a table with elegantly curved legs joined by a wooden center that will add a custom look to your space. This type of design, with its oval shape, makes a fabulous choice for families. Without any sharp edges to run into, it's a safe choice for everyone.
Elegance
To create an elegant focal point in your dining room, opt for a rectangular table with wood planks on both sides and glass in the center. Such a design will catch everyone's eye. Coordinate this elegant piece of furniture with the rest of your decor by selecting a brown maple, cherry, or walnut finish. This table comes with v-shaped supports on each end with an arched center beam and a curved base under each support to create a distinctive look in your home.
For more information about handcrafted dining room tables, please contact us today. Our furniture is built with precision and constructed from the most beautiful North American hardwoods to produce quality, high-end results.