The Perfect Handcrafted Dining Table For The Holidays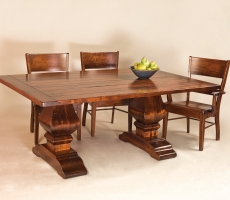 Spending time with family and friends is one of the most treasured pieces of this holiday season. Whether it's a Thanksgiving feast, a formal Christmas dinner, or a laid back crowd gathered to exchange gifts, sip on cocoa and fellowship with one another, you need a special place to gather around for such occasions.
Conversation and meals shared around the dining table make for some of the most special memories spent with your loved ones. You need a table to gather around that will provide both function and beauty. The handcrafted, solid wood dining tables found at Amish Furniture Showcase are just the missing piece you've been looking for this holiday season.
The extremely talented and skilled Amish and Mennonite craftsmen that create each unique table do so with quality precision. Amish furniture is synonymous with quality furniture. The investment you make in this dining table will be one that lasts a lifetime, with a finished wood that will hold it's beauty and durability for many, many years to come.
If the holiday season has snuck up on you too quickly, as it has for many others, then you may be finding yourself with parties and dinners to host yet without the right table to gather everyone around. Come in today to the Amish Furniture Showcase in Frisco and select the perfect handcrafted dining table with the right shape and style to fit your dining area. This carefully crafted piece of American made furniture will grow to become the most popular gathering place in your home for many holidays in the future!